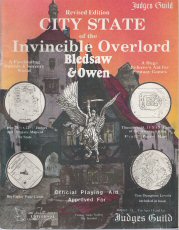 Nightwatchmen

Armor Class:
6 [13]

Hit Dice:
1+1

Attacks:
Shadowy Weaponry (1d8)

Saving Throw:
18

Special:
Dread

Move:
12

Challenge Level/XP:
1/15
In the days before the Overlord's violent rise to power, the Nightwatchmen served the purpose the City Guard serve (or are supposed to serve) today. Yet by the time of the Overlord's ascension, they had grown into a corrupt, Temple-sponsored boysclub that did as they pleased while the weaker classes were preyed upon unchecked by the organized criminals of the Citystate. No one is sure who placed the curse upon them that causes their spirits to patrol the streets now on starless nights, but when they do they are implacable and incorrupt, taking a bloody toll of any they find in contempt of the law, which includes adventurers out after "curfew". The Nightwatchmen appear as whispy, shadowy, guardsmen. They inspire terror in those they attack, requiring a saving throw to face them bravely without suffering a -2 penalty to hit.

The Hellboar of Bywater
Armor Class: 4 [15]
Hit Dice: 10
Attacks: Gore (3d8)
Saving Throw: 5
Special: Spell Immunity, Breath Weapon
Move: 12
Challenge Level/XP: 11/1,700
This immense, rotting, black swine has fiercely glowing eyes, and drips with maggots and filth. Once every few years it rises up out the Mermist Marshes to rampage into the city on an unknown errand. The last time it attacked, about 3 years ago, it killed nearly thirty citizens before the arrival of elite warriors from the Cryptic Citadel were able to drive it off. Once per turn, the Hellboar can exhale a black cloud of unholy cold, doing 3d6 pts of damage to all within a 60' cone. It is immune to spells of less than 3rd level. More than one party of adventurers has been lost in the Marshes hunting the fell thing, for its heart is rumored to be a cursed ruby of immense size.
Deadman's Dirk
The thieves of the City State live and die by their blades, and some thieves' spirits never leave their favorite sidearm. A Deadman's Dirk is a haunted +2 dagger that carries a malicious poltergeist around with it. The spirit will generally taunt and harrass its weilder in its ragged, whispery voice, angrily throw things around (strength of an
unseen servant
), and will whisper nightmares in its owner's ear as he sleeps.