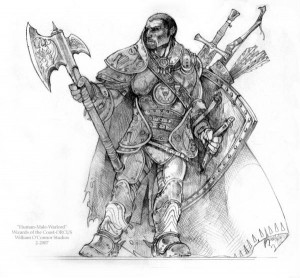 There seems to be a bit of cautious curiosity in the old-school blogosphere lately concerning 4E, with most of the "cautious" aspect seemingly directed towards the perceived drastic change in flavor from traditional D&D and the sometimes overbearing length of combat time.
While most old-school DMs can adjust flavor in-play at will (for any game, not just 4E), getting those combat times down to a palatable length is more of a challenge. With the rules-heavy later editions especially, houserules can become overly complex in a hurry, so my "fix" for combat length was to come up with a simple, 3-step procedure for making combat faster, but still dangerous and challenging. The most obvious root cause of long combats turned out to be the surprisingly large number of hit points 4E monsters get. Its not unusual for an orc to have 50-60 hp or even more, for instance. Despite that, 4E PCs are still doing pretty much the same amount of damage with the basic longsword hit that they've done since OD&D.
The compromising factor in this is that 4E characters have a modest selection of "powers" at their disposal which, among other effects, often double or even triple damage output. The problem is, once those powers are used up (comparable to Vancian casting), combat is reduced to what is referred to as "The Grind": PCs chipping away at that orc's remaining 30 hp's (or worse, that Otyugh's remaining 235hp!) at a rate of 5 or 10 points of damage per round.
My solution?
Brutal 4E
Step one: Reduce monster hit points by half.
Step two:
Increase monster damage by +1 per 2 levels.
(as in, a 6th level monster is +3 damage with all attacks.)
Step Three:
All attacks are "High Crit".
(Standard crits in 4E do max damage, whereas High Crit attacks due max damage plus another roll of the weapon die.)
And there you have it.
It should be noted that, unlike monsters, PCs in no way need their hit points to be halved. 4E characters are pretty soft on hit points already, albeit on a more gradual curve from low to high level. Step two and three increase monster damage, which is already pretty devastating to PCs, and most monsters have special, more dangerous, attacks they can only access when "bloodied"(at half their starting hps), which they obviously gain access to a whole lot faster when they start out with half to begin with! PC fatalities may actually increase, if they aren't careful.
With regards to those PC powers, their value increases drastically under Brutal 4E, and players will begin to manage their expenditure more wisely, rather than using them all at once just to get through the first encounter they run into.
I came up with the houserule over a year ago (and have seen
evidence
of other DMs trying it out) and used it with both my Wilderlands and Forsaken Halls Megadungeon sessions (both sadly languishing in Hiatus Limbo), and it increased average combats per 4 hour session from 1-3 up to 3-5. More encouragingly, from my perspective anyway, it took enough of the emphasis off combat that the PCs spent more time exploring, investigating, and interacting. That, I suspect, is a favorable result for most old-school DMs.