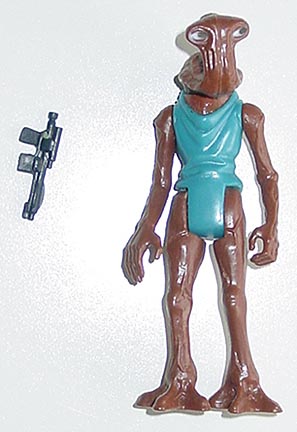 Check
Jeff's Blog today for some cool catalog images
from 1979. Really takes me back - I can remember drooling over toy catalogs as a kid.
I can also remember hoping, each birthday and Christmas, that I would get droves of Imperial Stormtroopers for my Luke, Han, and Chewie figures to blast their way through. Instead, I got F'n Hammerhead. Over and over and over again. I literally had a dozen of these ugly idiots.
I'm not sure what attraction this beanpole, blue-unitard-wearing slugface had for my parents, grandparents, aunts, uncles, and cousins, but they seemed unable to avoid buying me the hideous things. I mean, this guy was in the movie for what? 1.3 seconds? Sitting there in the cantina gurgling and looking hideous. If you ever needed any confirmation (other than senor Binks) that the folks in charge of the Star Wars franchise have perhaps completely lost touch with their fanbase, you need look no further than this atrocity: A F'n Hammerhead Jedi.
If I ever get my hands on one of these figures I'm going to destroy it in the most unpleasant way I can devise.
F you, Hammerhead Jedi. F you.