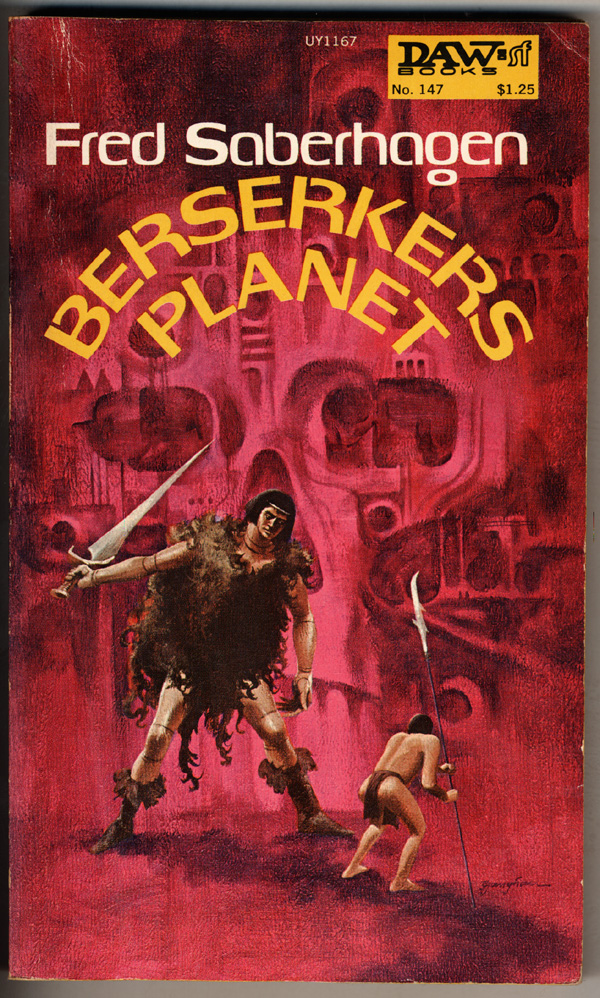 When I was a kid, Summer Break meant at least two weeks at with my aunt in Palatka, FL, a town in the middle of nowhere that just happened to have a fantastic used bookstore - the "Bookworm". The store was stuffed with used paperbacks; you could usually stuff a bag full of them for about $5, and my aunt made sure I got in at least one trip every summer. The Sci-Fi wall at the time was dominated by these books with bright mustard-yellow spines -
DAW SF
titles from greats like Vance, Cherryh, Moorcock, Norton, Leiber, Zelazny, and Tanith Lee. The covers were bright, evocative, and the titles lurid and irresistible to a 10 year old boy. Obviously my adolescence came well after the age of Weird Tales and Argosy - for kids in the late 70's, early 80's, DAW SF was
our
"Pulp" connection. They were cheap, plentiful, easy to read, and memorable.
As a quick scan of the covers will reveal, this was from the age when sci-fi and fantasy were easily interchangeable. The last yellow-spined DAW SF book was published in 1984 (the first was in 1971), about the same time as Tolkien pastiches would come to dominate the sci-fi sections of bookstores, and publishers grew more concerned with clearly delineating their fantasy titles.
The cover art still resonates with me today, and I've begun picking up the odd yellow-spine here and there when I see them at used bookstores and garage sales. Will I ever replicate the 1000-title Bookworm wall of my youth? We'll see. It'd certainly be fun trying.